OUR FLY FISHING LANYARDS FEATURE THE FOLLOWING COMPONENTS

FOAM NECK PAD

The 9" foam neck pad ensures all day comfort.
---
MICRO PARACORD CORDAGE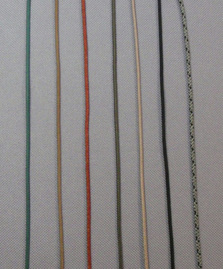 Although the micro paracord cordage used in the construction of these lanyards is only about 2mm thick, it offers a substantial 100 pound breaking strength. It is also mildew and rot resistant as well as UV resistant. From an asthetics viewpoint, it is available in many colors adding to the customization of our lanyards. The cord provides for a length adjustment of between approximately 18" and 30". This gives you the opportunity to easily adjust the lanyard to fit you and your personal style, no matter how much or how little layering is required for each fishing scenario.
---
SAFETY BREAKAWAY CONNECTOR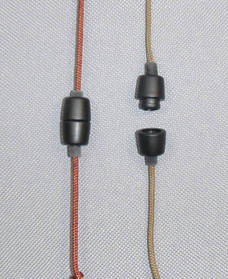 The safety breakaway connector offers a high level of comfort knowing that should the "worst case scenario" occur, you will not be hoplessly connected to a snag. If during the normal use of the lanyard you should "pop" the breakaway, it is easily re-connected.
---
FOAM CYLINDER FLY PATCHES (2)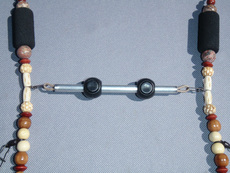 Each lanyard comes with two foam cyllinder fly patches mounted toward the top of the lanyard. The patches will easily hold your flies while they dry out or during a fly change.
---
PREMIUM BLACK BALL BEARING SWIVELS WITH DUOLOCK SNAPS (4)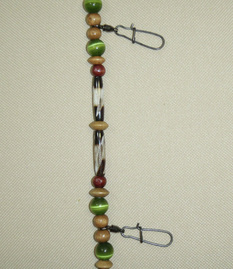 The smooth turning premium ball bearing swivels ensure that your connected tools and accessories will always move freely upon the lanyard. They have a 75 pound breaking strength which I have never known to be necessary on a fishing lanyard!

Attached to the swivels are 1" stainless steel Duolock Snaps which offer a rounded, heavy duty, connecting point for your tools.
---
ALUMINUM TIPPET POST WITH CORD LOCK STOPS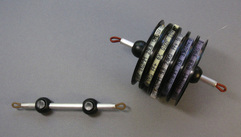 Each lanyard comes with a removable 4" aluminum tippet post with cord lock stops to hold your tippet spools centered. The tippet post is held in place by Duolock snaps located at each end. If you enjoy a different tippet solution, the tippet post is easily removed.
---
BLACK OXIDE "BULLDOG" SHIRT OR WADER BELT CLIP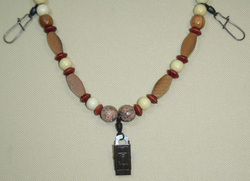 This strong holding bulldog clip serves two functions. First it clips to your shirt, or wading belt, to keep the lanyard from falling forward when you lean over.

Secondly, it holds the front of the lanyard secure and keeps it from sliding up during normal wear or when you pull your magnetic net release or handle your snap connection on the net holder swivel.

Because the clip is finished in black oxide, it will provide a higher level of corrosion protection. This clip is also secured to the lanyard with the same premium ball bearing swivels used in the rest of the lanyard.
---
NET HOLDER SWIVEL AND COLLAR CLIP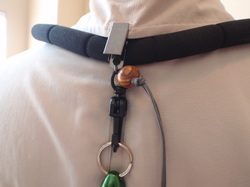 This is the driving force behind my interest in constructing the finest fly fishing lanyards available. The plastic swivel clip is located at the top of the foam neck pad and held in place with a bead, locked with an adjustable knot. A magnetic net release (my favorite) or an "O" ring to use with a snap, will allow you to connect your net to the lanyard.

To assist the lanyard in staying at your neck area, even with a weighty net, we have added a black oxide "Bulldog" clip, directly attached to the swivel clip. Simply clip it to your collar and the full weight of the net will be on your shirt and not your lanyard.
---
RETRACTOR WITH BALL BEARING SWIVEL & DUOLOCK SNAP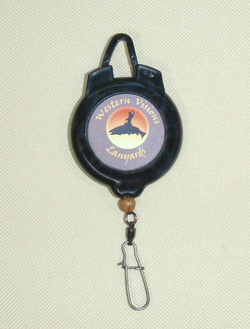 A plastic retractor sporting a waterproof Western Visions Lanyards logo, an olive wood stopper bead and a 1" duolock snap can be placed on any tool mounting swivel available to suit your own personal style.
---
VARIOUS SPACER BEADS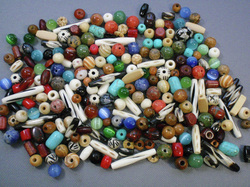 This is where the true character of our lanyards is created. Each lanyard is constructed by use of a combination of various sizes and shapes of beads, the focus leaning toward natural elements. We use beads of semi-precious stone, bone, horn, corals, seeds, ceramics, glass and wood. We are always on the hunt for new materials and shapes which allows us to continue making original designs unique to each lanyard.
---